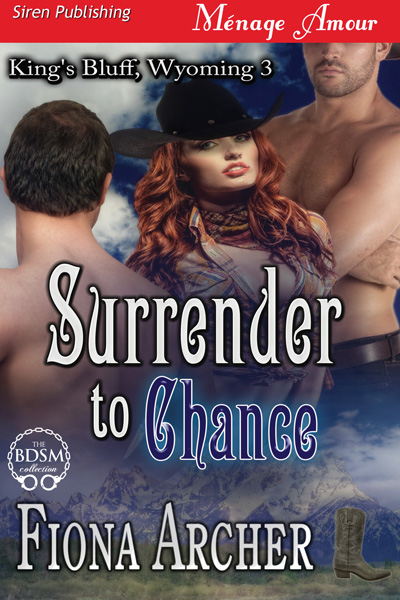 Surrender to Chance
After a painful divorce, plucky Olivia Fletcher returns to her home-town of King's Bluff, Wyoming to rebuild her life. She finds a public relations job at a new exclusive lodge. But the owners of the lodge—and the on-site BDSM club—are powerful Dominants who are as fascinating as they are unsettling.
Alex and Kane MacKenzie share everything—from their international construction business to their home. The two Doms had hoped to find a woman to share as well, but Alex's past has taught the remote alpha that women are incapable of caring for anyone but themselves. To his surprise, their new PR consultant shows a loyalty that pulls at his heart. Kane, the rebel, is determined to learn the spirited red-head's dreams and fears. When they discover her suppressed interest in BDSM, the former SEALs set out to convince Olivia that surrendering to them doesn't mean losing her identity.
But strong men draw formidable enemies. One has targeted the brothers' weak spot—Olivia—and Alex's deepest fear—betrayal.
---
Where to Purchase
Other books in the Sons of Sydney Series